Honeybees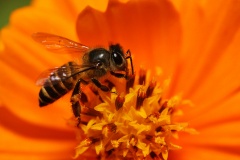 Honeybees often have a negative reputation. Ever been painfully stung by one?
But . . . think of what we would not have without them.
We wouldn't have strawberry shortcake or pumpkin pie. There would be no cucumber to eat with our favorite ranch dressing. We wouldn't have tomatoes for a BLT sandwich. Grandma couldn't make your favorite apple pie. And there would be no corn on the cob or peach ice cream.
We need honeybees! They pollinate one-third of all the foods we eat. Did you know that many orchard farmers have bee hives on their farms to pollinate their fruit trees?
---
Beekeeping is a high demand niche that---surprisingly---could be for you. Yes, even if you live in the city. Harvest your own fresh honey . . . give it to your friends and family . . . or go bigger and sell it! Are you curious? Go here. Then come back for the honey & vinegar recipes below.

---
Honey & Vinegar Cucumber Salad
1/4 cup cider vinegar
2 tablespoons water
2 tablespoons honey
1/4 teaspoon Dijon mustard
4 cucumbers, peeled and sliced
1 small onion, sliced
Mix vinegar, water, honey and mustard. Add the cucumber and onion. Toss. Marinate 30 minutes at room temperature. This recipe will keep well in refrigerator.
---
Sophia's Antipasto Salad
1 small head iceberg lettuce, cut into pieces
1 small head romaine lettuce, cut into pieces
1 cup canned red kidney beans, rinsed
1 cup canned garbanzo beans, rinsed
8 ounces each of salami and provolone cheese, cubed
2 tomatoes, cut in pieces
Combine the above ingredients in a bowl.
Red Wine Vinaigrette
1/2 cup red wine vinegar
3 tablespoons lemon juice
1 teaspoon honey
2 teaspoons salt
1 cup olive oil
salt and pepper
Mix the vinegar, lemon juice, honey, and salt. Gradually blend in oil while beating. Add salt and pepper to taste.
Toss the salad with vinaigrette. Ready to serve!
---
Spinach and Gazpacho Salad
3 medium ripe tomatoes, seeds removed
1 red onion
1 each yellow bell pepper and red bell pepper
1 cucumber
12 ounces packaged baby spinach
Slice tomatoes, onion, peppers, and cucumber. Add spinach and mix together in a bowl.
Honey Mustard Vinaigrette
1/2 cup red wine vinegar
1 tablespoon creole mustard (or your choice)
1 tablespoon honey
3/4 cup olive oil
pinch each of red chili flakes, salt, and pepper.
Mix together vinegar,mustard, and honey. Slowly add olive oil, whisking until emulsified. Add chili flakes, salt, and pepper.
Drizzle vinaigrette over vegetables and spinach.


Click for Lamb Chops with Honey-Balsamic and Honey-Vinegar Carrots

Click for Honey Vinegar Dipping Sauce For Fish and Vinegar-Honey Tuna Salad

Click for Honey Mustard Chicken and Aunt Arlene's Chicken Cacciatore

Return to Home Page from Honeybees