Chocolate Dessert Recipes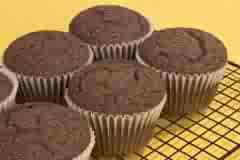 No need to be guilt ridden because you are thinking about making these chocolate dessert recipes!
Maybe the only reason you eat chocolate is because it tastes good.
But there is evidence that chocolate (particularly dark) has health benefits. These include the following effects: anticancer, brain stimulator, prevents coughing, and improves the circulatory system.
So go ahead--but also keep in mind, "All things in moderation!"
Chocolate Cream Cheese Cupcakes
Cream together:
8-oz pkg cream cheese
1/3 cup sugar
1 egg
pinch of salt

Add chocolate chips (as many as you want) and set aside this "white mixture."

Next, mix the following "dark mixture" together:
2 cups sugar
3 cups flour
1/2 cup cocoa
2 teaspoons each of vanilla and baking soda
2 Tablespoons vinegar
2/3 cup oil
2 cups water
Fill cupcake holders 1/2 full with the dark mixture. Spoon a rounded teaspoon of white mixture in middle of the dark.
Bake at 375 degrees for 20 - 25 minutes. This recipe makes 3 dozen cupcakes. Enjoy!


Chocolate Cream-Filled Cupcakes
3 cups flour
2 cups sugar
6 Tablespoons baking soda
1 teaspoon salt
3/4 cup oil
2 Tablespoons vinegar
2 teaspoons vanilla
2 cups cold water
Combine and mix. Pour batter into cupcake papers about 2/3 full. Bake at 350 degrees for about 20 minutes.

Icing:
1 cup milk
5 tablespoons flour
1 cup Crisco
1 cup granulated sugar
1 teaspoon vanilla.
Cook milk with flour mixed in. Cool and add Crisco. Beat well. Add sugar and vanilla. Beat well. Cut holes in top of cupcake and fill.



Return to Chocolate Cake Recipes from Chocolate Dessert Recipes