BIRTHDAYS, cakes

That's right, Chocolate!

And you may want to make chocolate cake recipes to fit with any of the above.
---
People who love chocolate often love dogs, right? Of course, you know chocolate can be toxic to your pet, so "woof" the chocolate down yourself before Fido can get to it! Read all you need to know about Your Dog's Diet & Nutrition
---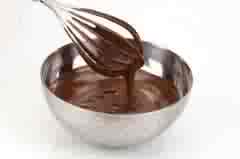 Chewy Moist Chocolate Cake
1-2/3 cups flour
1 cup brown sugar
1/4 cup cocoa
1 teaspoon baking soda
1/2 teaspoon salt
1 cup water
1/3 cup vegetable oil
1 teaspoon vinegar
1/2 teaspoon vanilla
Mix dry ingredients in bowl with fork. Add liquid ingredients and stir completely. Pour in ungreased square pan, 8x8x2 inch. Bake until toothpick comes our clean, approx. 30-35 minutes. Dust with 10x sugar. Or, this cake is also great with peanut butter frosting!

---
White Chocolate Info: White chocolate does not have a brown color or a chocolate taste because it does not contain any cocoa products. White chocolate is made up of cocoa butter, sugar and milk solids. So why is it called chocolate? It gets its name from the cocoa butter, although some chocolate fans do not think it should be called chocolate at all.
---
Red Velvet Cake
1-1/2 cups granulated sugar
2 cups flour
1 Tablespoon cocoa
1 cup buttermilk (Need a substitution for buttermilk?)
2/3 cup Wesson Oil
2 eggs
1 ounce red food coloring
1-1/2 teaspoon vanilla
Mix all these together and add 1 teaspoon baking soda and 1 teaspoon vinegar. Bake in 9" round pans for 25-30 minutes at 350 degrees.
Icing: Beat 1 egg white until stiff. Add 1 cup 10x sugar and 1 teaspoon vanilla and beat. Add 3/4 cup shortening. Whip. Then add 1 cup 10x sugar and 1 Teaspoon hot water. Beat.
---
Would you like tips for melting chocolate for delectable dipping?

Look here!
---
Click for Chocolate Chip Cheese Cake and Never Fail Chocolate Cake

Return to Home Page from Chocolate Cake Recipes