More Chocolate Cake Recipes
---
Cake and cookie decorating just got a whole lot easier! See YummyArts for stories, recipes, pictures, and more. Then come back here for the cake recipes.
---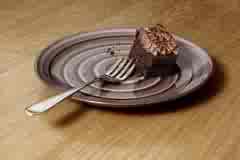 Chocolate Chip Cheese Cake
1-1/2 cups flour
1 cup sugar
1/4 cup cocoa
1 teaspoon baking soda
1/2 teaspoon salt
1 teaspoon vinegar
1 teaspoon vanilla
1/2 cup salad oil
1 cup water
Mix all the above and pour into an ungreased 9 x 13 inch pan.
Beat 8 oz cream cheese. Add 1/2 cup sugar, 1 egg, and a pinch of salt. Mix well, and then add 1 cup chocolate chips.
Drop by spoonfuls onto batter and swirl. Bake at 350 degrees for 50-60 minutes.

---
You don't have to be at loss for words to give comfort. Here is a collection of thoughtful poems, quotes, readings in an easy and quick layout. Do Not Stand At My Grave And Weep
---
Never Fail Chocolate Cake (moist)
6 tablespoons cocoa (measure generously)
3 cups sifted flour
2 cups sugar
1 teaspoon salt
2 teaspoons baking soda
Sift the above dry ingredients together, and then add:
1 cup oil
2 tablespoons vinegar
1 teaspoon vanilla
2 cups cold water
Mix all together until well blended. The mixture will be thin. Bake at 350 degrees for 40-45 minutes in 9 x 13 inch pan. Top with your favorite frosting. (My favorite is peanut butter).

Return to Chewy Moist Chocolate Cake and Red Velvet Cake

---

FUN, TEMPTING, AND FREE! Enjoy a fun fact and a new recipe every month by subscribing to my e-mail newsletter, Fun Facts and Tempting Recipes. It's short, too--perfect for people in a hurry!
---