Cranberry Orange Bread Recipe
Also makes perfect muffins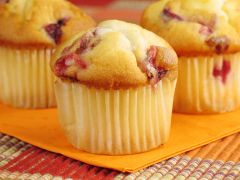 BOUNCING BERRY ALERT! One 12-oz bag of cranberries has three cups of whole berries in it.
Cranberries can be kept in the refrigerator for one month, and in the freezer for nine months.
Cranberries are native to North America. Other native fruits are concord grapes and blueberries.



Ingredients for Cranberry Orange Bread or Muffins:
2 cups flour
1/2 cup packed brown sugar
1 tablespoon baking powder
1 teaspoon baking soda
1 teaspoon grated orange peel
1/2 teaspoon ground nutmeg
1 cup cranberries
1 cup vanilla yogurt
1 cup milk
1 tablespoon white distilled vinegar

In a large bowl, combine the first six ingredients. Fold in blueberries.
Add vinegar to milk; then combine with yogurt. Stir into dry ingredients just until moistened.
If making bread, pour into greased bread pan.
If making muffins, fill greased muffin cups or paper-lined muffin cups 2/3 cups full. (makes one dozen)
Bake at 400 degrees for 18 to 20 minutes. Cool for 5 minutes before removing to wire rack.


Return to Cranberries, Knowing and Loving Them from Cranberry Orange Bread

Home Page