BBQ Sauce, Healthy and Delicious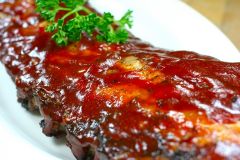 Warning! After you taste this BBQ sauce, you won't ever again want to buy the stuff in bottles! Yes, it's that good, and healthy, too.
I have had this recipe for so many years that I don't remember anymore where I got it. I just know I try to always have some on hand.
It makes 6 pints, but don't worry. You will use it up in no time! You can put it over almost anything. This sauce may be stored in the freezer, and you can just scoop out what you need each time.
You probably can make it in a crock pot, although I've always made it stove top.

Healthy BBQ Sauce
2-14 ounce bottles catsup
1-12 ounce bottle chili sauce
1/3 cup mustard
1 tablespoon dry mustard
2 tablespoons black pepper
1-1/2 cups apple cider vinegar
1/2 cup fresh lemon juice
4 ounces thick steak sauce
2 dashes Tabasco sauce
1/4 cup Worcestershire sauce
2 tablespoons soy sauce
2 tablespoons olive oil
2 cloves garlic, minced
2 cups brown sugar, firmly packed
1/2 cup honey

Combine all ingredients in a large cooking pot and stir well. Simmer (uncovered) over low heat for 1 to 2 hours or until thickened.


Return to Home Page from BBQ Sauce