---

FUN, TEMPTING, AND FREE! Enjoy a fun fact and a new recipe every month by subscribing to my e-mail newsletter, Fun Facts and Tempting Recipes It's short, too--perfect for people in a hurry!
---
Benefits of Honey
One could go on and on about the benefits of honey. It is one of our most powerful healing foods.
It can kill bacteria and disinfect wounds and sores. It can boost our energy . . . and build our immunity. Honey can improve our mood. It can stimulate our brain for memory and learning ability. One of the most soothing benefits of honey is that it can even help you sleep!
One tablespoon of honey contains 64 calories and 17 grams of carbohydrates.

---
HONEY, GARLIC, and VINEGAR. Just three everyday ingredients in your kitchen cupboard. What's so special about them? Find out here!
---
Honey Vinegar Dipping Sauce For Fish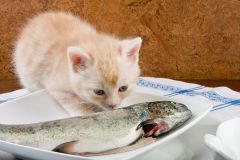 1 pound fish of your choice
1 cup flour
1 teaspoon baking powder
1/2 cup milk
1 egg
1/2 teaspoon salt
1/4 cup apple cider vinegar
1 tablespoon honey
In a shallow dish, mix together flour, baking powder, and salt. Stir in milk and egg. Add fish and coat with batter. Bake fish on sprayed baking sheet until golden brown and tender.
In a small bowl, mix together vinegar and honey. Serve with fish as a dipping sauce.
---
Vinegar-Honey Tuna Salad
(I enjoy this recipe as a refreshing change from my regular tuna salad recipe.)
Tuna Salad Ingredients
3-6 ounce cans tuna
1/4 cup onion, diced
1/2 cup golden raisins
1/2 cup carrots, shredded
1/4 cup sunflower seeds
lettuce
Dressing Ingredients
1/4 cup dijon mustard
2 tablespoons apple cider vinegar
1/4 cup vegetable oil
1 tablespoon tarragon leaves, chopped
2 tablespoons honey
3 tablespoons sour cream
Whisk together dressing ingredients. Add tuna and toss. Fold in the remaining ingredients. Cover and refrigerate one hour. Serve on lettuce.




Click for Honey Mustard Chicken and Aunt Arlene's Chicken Cacciatore

Click for Honey & Vinegar Cucumber Salad and Sophia's Antipasto Salad and Spinach and Gazpacho Salad

Click for Lamb Chops with Honey-Balsamic and Honey-Vinegar carrots

Return to Home Page from Benefits of Honey