Chicken Barbecue Recipes
(Cooking with vinegar in a crock pot)


Ken's Chicken Barbecue Sandwich Recipe
6 chicken thighs (or breasts if you prefer white meat)
1/2 cup brown sugar
1/4 cup mustard
2 tablespoons ketchup
2 tablespoons cider vinegar
2 tablespoons hot pepper sauce
1 teaspoon each of salt, black pepper, and crushed red pepper flakes
2 teaspoons liquid smoke

Place chicken in crock pot. In a separate container, combine all other ingredients. Mix well and pour over chicken.
Cook on low for 8-10 hours.
Remove chicken from crock pot. Remove meat from bones and shred using forks. Return chicken to crock pot with sauce.
Delicious served on hamburger buns with your favorite coleslaw.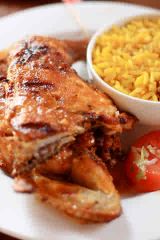 Ruthie's Chicken Barbecue Over Rice
1 whole chicken, cut into portion-size pieces (or all chicken breasts if you prefer all white meat)
3 cups ketchup
6 tablespoons brown sugar
2 tablespoons Worcestershire sauce
2 tablespoons soy sauce
2 tablespoons apple cider vinegar
1 to 2 teaspoons hot pepper flakes (according to how hot you like it)
1 teaspoon garlic powder
Place chicken pieces in crock pot. Combine all remaining ingredients and pour over chicken. Cook on high 4-5 hours. Serve over cooked rice.


---
If you are interested in a quick and easy North Carolina BBQ rub that can also be made in a crock pot, visit ashevillelist.com
---
Click for more chicken crock pot recipes

Return to Chicken Crock Pot Cooking from Chicken Barbecue Recipes

Return to Home Page