Soup Recipes
Lentil and Brown Rice Soup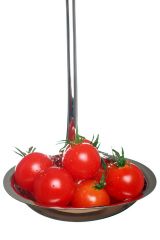 5 cups chicken broth
3 cups water
1-1/2 cup lentils, rinsed and cleaned
1 cup long grain brown rice
1-35 oz can tomatoes, chopped (or use fresh)
3 carrots, cut into pieces
1 cup onion, chopped
1 cup celery, chopped
3 teaspoons garlic, minced
1/2 teaspoon dried basil
1/2 teaspoon dried oregano
1/2 teaspoon dried thyme
1 bay leaf
1/2 cup fresh parsley, minced
2 tablespoons cider vinegar
salt, to taste
pepper, to taste
Combine broth, water, lentils, rice, tomatoes, carrots, onion, celery, garlic, basil, oregano, thyme, and bay leaf.
Bring soup to boil; then reduce heat, cover pan, and simmer. Stir occasionally until lentils and rice are tender (approx 45 minutes). Remove from heat and discard bay leaf
Stir in parsley, vinegar, salt, and pepper. This makes a thick soup; but you can thin it by adding more broth, if desired.



Healthy, Tasty Chili Soup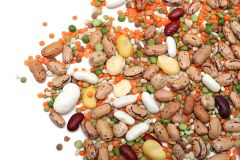 Brown together in large skillet:1-1/2 lb ground turkey (or half turkey and half beef)
1 cup onion, chopped
2 cloves garlic, minced
Add:
1 can beef broth
2 cans tomato soup
1 soup can water
2-15 1/2 oz cans kidney beans
3 cups whole wheat rotini, cooked
3 tablespoons chili powder
2 tablespoons vinegar
Simmer 30 minutes, stirring occasionally.

Return to Tomato Basil Soup and Stuffed Green Pepper Soup from Soup Recipes

Return to Home Page from Soup Recipes