More Cranberry Recipes
Cranberry Glazed Hamballs
Mix and form into balls:
1-1/2 lb. ham loaf mix
1-1/2 cups bread crumbs
2 eggs
1/2 cup milk

Dressing:

3/4 cup brown sugar
1/4 cup apple cider vinegar
1/4 cup water
1 can sliced pineapples
1/4 cup juice from pineapples
1 cup whole cranberry sauce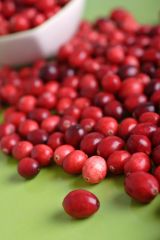 Place pineapple slices on bottom of pan. Add ham balls. Mix the remaining dressing ingredients together and pour on top of ham balls. Bake one hour at 325 degrees.
BOUNCING BERRY ALERT! Native Americans pounded cranberries into a paste and mixed it with venison. This was called pemmican. They used cranberries as dye for blankets and also for medical treatment of arrow wounds.
Frozen cranberries can be used in recipes without thawing.
It is easier to chop or grind cranberries while they are still frozen.


Cranberry Sweet and Sour Pork
4 pork chops or small pork roast
1/2 cup water
1 can pineapple chunks with juice
1/4 cup brown sugar
2 tablespoons cornstarch
1/4 cup cider vinegar
1/2 teaspoon salt
2 tablespoons worchestershire sauce
1 can whole cranberry sauce
1 small onion, chopped

Brown pork in small amount of oil. Add water and cover and simmer until tender, about 1 hour.
Drain pineapple and mix rest of ingredients with juice in saucepan. Cook and stir until mixture thickens.
Then combine pork, pineapple, and juice mixture and cook a few minutes until bubbly. Serve over rice.




return to Corn Bread Stuffed Turkey With Cranberry Glaze and Madeline's Favorite Cranberry Chicken from More Cranberry Recipes

return to Cranberries, Knowing and Loving Them from More Cranberry Recipes

Home Page